Artist Installs Art, Museums Not Amused
London-based artist Banksy has struck again. Surreptitiously installing pictures in the Brooklyn Museum, The Metropolitan Museum of Art, and the American Museum of Natural History, he literally wore a beard, mustache and long coat to hide the smuggled artwork.

The Wooster Collective has pictures of the works put on display and their installations, a virtual how-to on placing artwork in museums that wouldn't otherwise show your work.

This isn't the first time he's snuck a piece on display.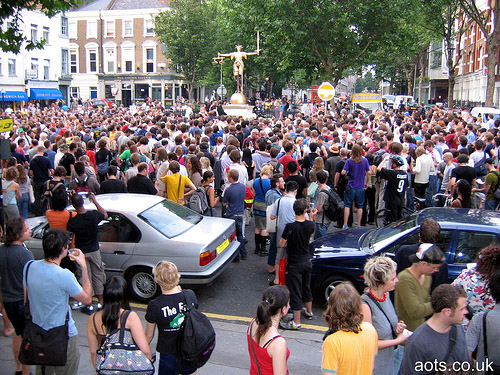 "It is a monument dedicated to thugs, to thieves, to bullies, to liars, to the corrupt, the arrogant and the stupid."
Image from Art of the State (Banksy Sculpture, London)


An even more ambitious and expensive stunt (BBC article) was placed in the courtyard of Clerkenwell Green, England. Jon Stewart on the Daily Show once called the Statue of Liberty a SILF (Statue I'd Like to Fuck). But Banksy has done one better, with Justice looking hot in garters and stockings. Local attorney and poet Dayvid Figler should own this, and The Las Vegas Community Artists Group should be seeing about getting Banksy and his friends to come to our fair town.
posted by Mr. Kimberly at 1:58 AM